The Darjeeling Limited arrives in February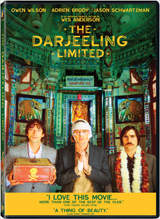 20th Century Fox Home Entertainment has unveiled details about The Darjeeling Limited, coming to DVD in February.
Three American brothers who have not spoken to one another in a year set off on a train voyage across India with a plan to find themselves and bond with each other – to become brothers again like they used to be. Their "spiritual quest" however, veers rapidly off-course and they eventually find themselves stranded alone in the middle of the desert with eleven suitcases, a printer and a laminating machine. At this moment, a new, unplanned journey suddenly begins.
The DVD will feature the movie in its original 2.35:1 widescreen aspect ratio as well as a pan&scan version, supplemented by Dolby Digital 5.1 audio tracks. As extras the disc will contain the Featurette "Hotel Chevalier" as well as a number of other Featurettes.
"The Darjeeling Limited" is coming to DVD on February 26 with a $29.98 suggested retail price.