Riddle me this, Nancy Drew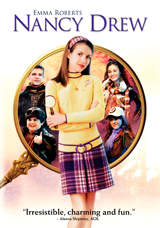 Along with Encyclopedia Brown and The young Hardy lads, Nancy Drew holds a place in the young detective hall of fame. The filmed adaption of the girl in the blue books is coming to DVD in March from Warner Home Video.
With her magnifying glass and fingerprint powder in hand, Nancy Drew leaves River Heights for La-La-Land…but not to meet that guy on Smallville, as her boyfriend Ned fears. No, she's out to solve one of the greatest mysteries ever: the death of movie star Dehlia Draycott. But the bigger mystery is how our perky, plaid-clad sleuth will fit in with the text-messaging teen queens of mean she meets at Hollywood High.
The film is coming in anamorphic widescreen and Dolby Digital 5.1 as well as the Featurette "Nancy Drew: Kids at Work". Alos included are five Mini-Featurettes entitled "Our Ipod Ideology," "Nancy Drew's Detective Kit," "Behind the Scene," "Day on the Set," and "Emma's Last Day." the disc will be rounded out by the Music Video "Pretty Much Amazing" by Joanna.
Look for the DVD on March 11th, with a suggested retail price of $28.98.