Paramount sets sail in The Love Boat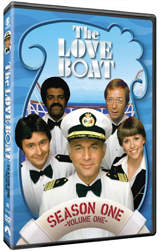 Hard to believe it took so long but finally, Paramount Home Entertainment will begin releasing The Love Boat on DVD in March.
Each week, passengers looking for romance board the beautiful Pacific Princess cruise ship as it sails to tropical and exotic lands. Captain Stubing, Julie, Gopher, Dr. Adam, and Isaac help them to get the most out of their trips and do their best to help them fall in love.
Boxed as Season One: Volume One the DVD set will feature the episodes of the first half of the show's first season in their original fullframe aspect ratio on 3 discs.
No extras will be included on the release.
"The Love Boat" will set out to sea on March 4 for $42.99