Jesse James meets his end on DVD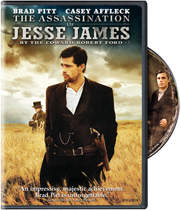 Warner Home Video found a hit with the ambitiously titled The Assassination of Jesse James by the Coward Robert Ford which is coming home in 2008.
Everyone in 1880s America knows Jesse James. He's the nation's most notorious criminal, hunted by the law in 10 states. He's also the land's greatest hero, lauded as a Robin Hood by the public. Robert Ford? No one knows him. Not yet. But the ambitious 19-year-old aims to change that. He'll befriend Jesse, ride with his gang. And if that doesn't bring Ford fame, he'll find a deadlier way.
The film will arrive on DVD, HD-DVD/DVD combo and Blu-ray. The HD-DVD/DVD combo format will include a Documentary The Assassination of Jesse James: Death of an Outlaw. Little is known on any other features.
All three will arrive on February 5th with the widescreen DVD selling for $27.95 and the high def counterparts going for $35.99 each.