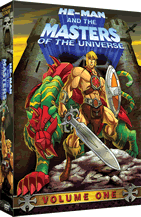 BCI has created nine volumes of the complete story of He-Man and She-Ra in the "80s and "90s in what has become a high water point for animated box sets. Now the 2002 series He-Man and the Masters of the Universe promises to live up to the name He-Man.
The complete series will come in 2008 stretched over three volumes. The first volume will contain the first thirteen episodes in anamorphic widescreen. Each episode will also contain the morale of the story not seen in the show's original broadcast. Also included is the World of He-Man documentary originally available on VHS tapes sold with the action figures, a still gallery, a sketch gallery, audio commentaries on five episodes (three of which include extended conversations after the episode), animatics for the three-part pilot, the 2007 Comic-Con panel, scripts on DVD-ROM, a booklet and trading cards.
The new set is scheduled to arrive on February 19th, but that's not the end of it. BCI is also working on a Blu-ray set of the series with features still being added. The Blu-ray set will arrive a bit later in the year.