Disney presents Dan in High Def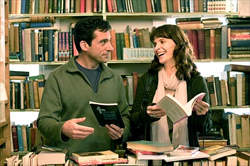 Dan in Real Life arrives on DVD and Blu-Ray Disc from Buena Vista Home Entertainment next spring as we have been able to find out.
A widower and father of three who also writes a parenting advice column for his local newspaper falls for the girlfriend of his younger brother during a family vacation in director Peter Hedges' offbeat love triangle laugher. Steve Carell stars as the writer who finds his widely-known convictions put to the ultimate test, with Dane Cook and Juliette Binoche respectively assuming the roles of the younger sibling and his radiant girlfriend.
The DVD version of the movie will feature an anamorphic widescreen presentation complete with 5.1 channel Dolby Digital audio.
The Blu-Ray version will arrive in a 1080p transfer supported by an uncompressed PCM 5.1 audio sound as well as Dolby Digital Plus tracks.
The releases will share the same bonus materials, such as a Director's Commentary, Deleted Scenes two Featurettes as well as a Gag Reel.
The disc will be priced at $29.99 on DVD and $34.99 on Blu-Ray on its release March 11th.