Digital Playground now also does Blu-Ray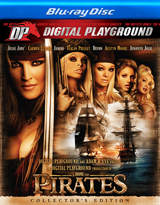 We just got word in from Digital Playground that the adult movie studio will also begin supporting the Blu-Ray Disc high definition format, starting this January. So far the studio had only supported the competing HD-DVD format but with the overwhelming market penetration of Blu-Ray players the studio is now adding Blu-Ray to their slate.
The award-winning and acclaimed Pirates will be the first title to make its Blu-Ray debut and it will be presented in 1080p for the first time on the release, as the HD-DVD version offered only a 720p transfer of the film.
"Pirates" is the 18th-century story of Isabella (Carmen Luvana) and her new husband Manuel Valenzuela (Kris Slater). On their wedding night, they make their way across the sea to his new job at a trading post in the Caribbean. Unbeknownst to either of the newlyweds, Manuel possesses an inherited power for which renegade pirate Capt. Victor Stagnetti (Tommy Gunn) and his mate Serena (Janine) lust. Capt. Stagnetti and his pirate crew board the ship carrying the young couple, kidnap Manuel, and set Isabella afloat assuming that she'll drown. Fortunately, pirate hunters Capt. Edward Reynolds (Evan Stone) and his first-mate Jules (Jesse Jane) rescue Isabella from the ravages of the sea. In due course, Capt. Reynolds and his crew follow the pirates into a forbidding cave, do battle with an army of skeleton warriors assigned from antiquity to protect the cave and its contents, reunite Isabella and Manuel, and sink the pirate ship and its mates.
The release will also feature a host of bonus materials, such as Behind-the-Scenes Footage in high definition, a Visual FX "Making Of" Featurette, a Commentary Track with the Stars, Bloopers, a Pirates Short, Trailers and a Photo Gallery. Also included is a Casting Video from the film.
"Pirates" on Blu-Ray Disc will sail into stores on January 4.