Warner Home Video launches The Invasion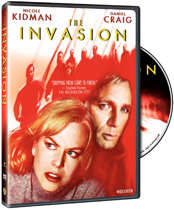 Warner Home Video is preparing releases of the latest "Invasion Of The Body Snatchers" remake, called The Invasion on DVD, HD-DVD and Blu-Ray Disc in January.
The Invasion tells the story of a mysterious epidemic that alters the behavior of human beings. When a Washington D.C. psychiatrist (Nicole Kidman) discovers the epidemics origins are extraterrestrial, she must fight to protect her son, who may hold the key to stopping the escalating invasion.
Featuring a 2.40:1 anamorphic widescreen transfer of the movie with a Dolby Digital audio track in English, the DVD version will also contain a series of Featurettes such as "On the Set," revealing the challenges and
advantages to shooting in Washington DC. and "Snatched," explaining how to invade without ships, planes or bombs?
Also included is the featurette "A New Story" telling how to make an old story
New, and the Documentary "We've Been Snatched Before," talking about Invasion in Media History.
The HD-DVD and Blu-Ray versions will feature a 1080p transfer and the same extras as the DVD version.
"The Invasion" will take place on January 8 and can be yours for $28.98 on DVD and $35.99 on HD-DVD and Blu-Ray Disc.