Warner Home Video has No Reservations for February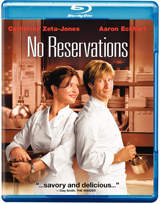 Warner Home Video has announced details about a February release of the romantic comedy No Reservations. The film, starring Catherine Zeta-Jones and Aaron Eckhart will come to DVD, HD-DVD and Blu-Ray Disc.
In the film a perfectionist chef addicted to her work struggles to adjust when her sister passes away leaving her with a little girl to raise and a new soup-chef threatens to take over her kitchen with his high-spirited and free-wheeling ways.
The DVD version will feature an anamorphic widescreen transfer of the film as well as a fullframe version, complemented by Dolby Digital 5.1 audio tracks in English, French and Spanish. As an extra the release will also contain Food Network's Unwrapped, hosted by Marc Summers, in which goes behind the scenes of the making of "No Reservations."
The HD-DVD version will feature a 1080p transfer with Dolby Digital Plus audio track and offers the same Unwrapped feature as the DVD version on a single layer disc. In addition the version will include Food Network's Emeril Live Show in which Emeril re-creates the famous dishes from the movie with his guest stars Aaron Echkart and Abigail Breslin.
The Blu-Ray version will also come with a 1080p transfer and offers Dolby Digital audio tracks. It will include the same extras as the HD-DVD version, including the "Emeril Live" segment.
"No Reservations" comes to home video on February 12 just in time for Valentine's Day.