The Justice League is Coming Home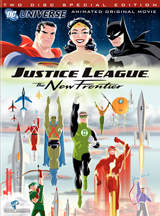 Warner Home Video will release the all-new, feature-length animated movie Justice League: The New Frontier on DVD, HD DVD, and Blu-Ray in February.
Based on the graphic novel by Darwyn Cooke, the film features an impressive voice cast which includes David Boreanaz, Brook Shields, Lucy Lawless, Neil Patrick Harris, Kyra Sedgwick, Jeremy Sisto, and Kyle MacLachlan. The story explores the origins of the Justice League and features Superman, Wonder Woman, Batman, Green Lantern, Martian Manhunter, The Flash, and more.
Warner is releasing a barebones standard DVD and a featured-laden 2-disc DVD, HD DVD, and Blu-Ray Disc. The features include a documentary about super villain pathology, three bonus episodes of the television series selected by animation legend Bruce Timm.
Each edition will be available on February 26. The standard DVD is set to retail for $19.98, the 2-disc Special Edition DVD will cost $24.98, and the price points of the Blu-ray and HD DVD versions have yet to be announced.