The Brave One walks home video in February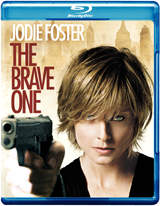 Warner Home Video has scheduled Neil Jordan's latest movie, The Brave One starring Jodie Foster for release in February. This high-tension thriller will come to DVD, HD-DVD and Blu-Ray complete with a few extras.
"Why don't they stop me?" Erica Bain wonders. Bain, a popular N.Y radio host, watched her fiancé die and nearly lost her own life to a vicious, random attack. Now she discovers a stranger within herself, an armed wanderer in the urban night, out for vengeance and at war with her own soul.
The DVD version will serve up an anamorphic 2.40:1 widescreen presentation of the film with a 5.1 channel Dolby Digital audio track. A fullframe version will be sold separately. As extras the disc contains the 22-minute Featurette "I Walk The City as well as 7-minutes worth of Additional Scenes..
The HD-DVD version will be released as a HD-DVD/DVD combo disc offering the movie in 1080p high definition on one side and as a standard DVD on the other. It will have the same extras as the DVD version, however the featurette will be presented in high definition. The disc will also contain a TrueHD audio track for the HD-DVD version.
The Blu-Ray Disc version also comes in 1080p high definition, of course, and features the same extras as the DVD version, but offers the featurette "I Walk The City" in high definition also. In the audio department the disc will offer up a 5.1 channel Dolby Digital TrueHD track as well as regular Dolby Digital tracks in English, French and Spanish
All thee version of the film will be available on February 5. The DVD version will carry a $28.98 sticker price while the high definition versions will cost you $35.99.