The Aristocats go Platinum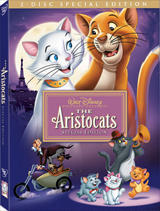 After giving the dogs a make-over with their upcoming release of "101 Dalmatians," Buena Vista Home Entertainment is switching to the cats next and will release a 2-Disc Platinum Edition of Walt Disney's 20th full-length animated film, The Aristocats in February.
This enchanting tale begins in Paris, when a kind and eccentric millionairess wills her entire estate to her family — a family of adorable high-society cats. But when Edgar, the greedy butler, overhears her plan, he catnaps Duchess, the elegant, soft-spoken mother, and her three mischievous kittens and abandons them in the French countryside. Soon, they're being escorted home by the charming Thomas O'Malley, a rough-and-tumble alley cat, who takes them to his "pad" along the way where Scat Cat and his band of swingin' jazz cats perform the memorable "Ev'rybody Wants To Be A Cat."
Fully restored with a new transfer the film will be presented in all its sparkling glory and will be complemented by bonus materials, such as the Never-Before-Seen Deleted Song, "She Never Felt Alone." The Featurette "The Sherman Brothers: The Aristocats Of Disney Songs" will also be included shining a spotlight on the composers of the music for many Disney movies, while an excerpt from "The Great Cat Family", hosted by Walt Disney himself, will also be found on the disc.
For children, the release will offer up Disney Virtual Kitten, a game where kids can "Adopt Your Own Virtual Kitty", plus two additional mini DVD-ROM Games.
This new version of "The Aristocats" will come to stores on February 22 for $29.99.