Rob Zombie's Halloween remake arrives in December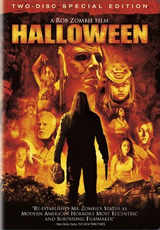 Genius Products has just been trickling out information about the upcoming release of Rob Zombie's somewhat ill-received – but box office successful – remake of Halloween.
After being committed for 17 years, Michael Myers, now a grown man and still very dangerous, is mistakenly released from the mental institution (where he was committed as a 10 year old) and he immediately returns to Haddonfield, where he wants to find his baby sister, Laurie. Anyone who crosses his path is in mortal danger.
The DVD will feature a Commentary Track with director Rob Zombie, as well as 17 Deleted Scenes and a Blooper Reel.. Also included on the release as Casting Sessions and a selection of Featurettes.
"Halloween" is scheduled for a December 18 release for $29.95. The film will be available as an unrated version or as a theatrical version, both at the same price. No high definition plans have been announced as of yet.