Prepare yourself for the 3:10 To Yuma in January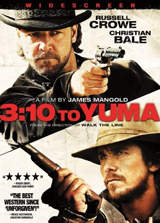 One of this summer's most impressive movies is coming to home video in January also, as Lionsgate Home Entertainment has added 3:10 To Yuma to their release schedule for DVD and Blu-Ray Disc.
In Arizona in the late 1800's, infamous outlaw Ben Wade (Russell Crowe) and his vicious gang of thieves and murderers have plagued the Southern Railroad. When Wade is captured, Civil War veteran Dan Evans (Christian Bale), struggling to survive on his drought-plagued ranch, volunteers to deliver him alive to the "3:10 To Yuma", a train that will take the killer to trial. On the trail, Evan and Wade, each from very different worlds, begin to earn each other's respect. But with Wade's outfit on their trail – and dangers at every turn – the mission soon becomes a violent, impossible journey toward each man's destiny.
Both versions will contain Featurettes and Deleted Scenes, as well as a Commentary Track. The Blu-Ray version will also contain a Picture-In-Picture Video Commentary, Additional Featurettes, and a Historical Timeline.
Look for "3:10 To Yuma" on January 8. The DVD version will carry a $29.95 price tag, while the Blu-Ray Disc will set you back $39.99.