Lionsgate goes to town with Cary Grant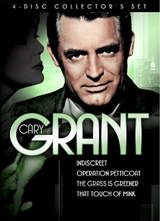 Lionsgate has just unveiled plans for a 4-disc Cary Grant Collector's Set featuring four of the star's most beloved Republic Pictures.
The comedy set will include Indiscreet with Ingrid Bergman, Operation Petticoat with tony Curtis, The Grass Is Greener with Jean Simmons, and That Touch Of Mink with Doris Day.
The 4-Disc Cary Grant Collector's Set will be in stores on January 8 and can be yours for $34.98.