Joshua kills his way to DVD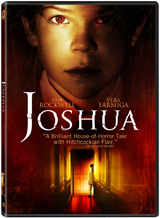 Evil has a new name… again. 20th Century Fox Home Entertainment has announced the release of Joshua on DVD this January.
The film stars Sam Rockwell and Vera Farmiga in a suspenseful thriller that follows an upscale American family faced with horror. The Cairn's seem to have the perfect life until their nine-year-old prodigy Joshua begins to eerily affect the household.
The DVD will include a Commentary Track from director George Ratliff (Hell House) and writer David Gilbert, extensive Cast and Crew Interviews, Deleted Scenes, and the never-before-seen DVD exclusive Music Video of Dave Matthew's "Fly".
The DVD is set to hit shelves on January 8 for $27.98.