In The Heat Of The Night returns to DVD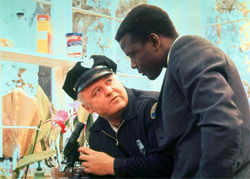 MGM Home Entertainment is revisiting one of the most respected and critically acclaimed films of the 60s in January, when they will release a 40th Anniversary Edition of In The Heat Of The Night.
When Philadelphia homicide detective Virgil Tibbs (Sidney Poitier) visits his mother in the rural south, he is mistakenly arrested for the murder of a white man simply because of the color of his skin. Once the town's law enforcement officials learn of his highly decorated past, they reluctantly seek his help in solving the crime; leading him to win the respect, protection and overall friendship of Police Chief Bill Gillespie (Rod Steiger).
The DVD will contain a Commentary Track by director Norman Jewison and actors Lee Grant, Rod Steiger and Haskell Wexler. In addition the release will contain a series of all-new Featurettes, such as "Turning Up The Heat: Movie Making in the Turbulent 60s", "The Slap Heard Around the World" and "Quincy Jones: In The Heat of the Music". The disc will be rounded out by Trailers and TV Spots.
"In The Heat Of The Night: 40th Anniversary Edition" will be available in stores on January 15 with a friendly $19.98 sticker price.