High fantasy comes to DVD with Dragonlance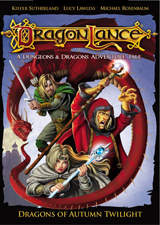 Fans of Advanced Dungeons & Dragons fantasy will have reason to rejoice when Paramount Home Entertainment will release the animated movie Dragonlance in January.
Based on the beloved Tracy Hickman and Margaret Weis novel "Dragons Of Autumn Twilight, " this is a mesmerizing story of might, magic and monsters. After 300 hundred years of peace, the world of Krynn has descended into darkness as the evil goddess Takhisis and her army of dragons threaten to dominate the lands. Can a small band of heroes, including the wizard Raistlin (Kiefer Sutherland), the priestess Goldmoon (Lucy Lawless), and the half-elven warrior Tanis (Michael Rosenbaum), save the world before all is lost?
Coming to DVD with its original fullframe transfer the release will also contain a 5.1 channel Dolby Digital audio track and a Dolby Stereo track. As extras the disc will contain Original Test Animations and Initial Character Designs.
"Dragonlance" is scheduled for release on January 15 for $19.99 and I sure can't wait to revisit the adventures of Tanis and his companions.