Freddy Krueger brings you the Killer Pad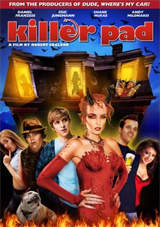 Directed by Robert "Freddy Krueger" Englund, Lionsgate has just announced plans to bring the movie Killer Pad to DVD in February.
When three pals find a sweet deal on a mansion in the Hollywood Hills, they think they have struck party gold. But their dreams of sexy Hollywood ladies are quickly thwarted when they realize that their dream pad is also a direct portal to Hell.
The DVD will feature an anamorphic widescreen version of the movie with 5.1 channel Dolby Digital audio. As extras the disc will contain a Commentary Track by Robert Englund, as well as a Making Of Featurette, discussing the all-digital workflow that was used to produce this film.
"Killer Pad" is scheduled for a February 5 release and will carry a $26.98 sticker price.