Dragon Wars hits your suburb in January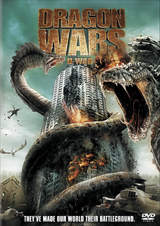 Sony Pictures Home Entertainment unleashes Dragon Wars upon us all on home video in January on DVD and Blu-Ray Disc.
Meet Buraki, the vicious, 200-meter long Imoogi serpent from ancient Korea. His army includes giant lizards with missile launchers, flying dragons, soldiers bred for evil and mega-intelligent dinosaurs. Together, they will destroy Los Angeles and possibly the world unless reincarnated warriors Ethan and Sarah can outrun them and resurrect the Good Imoogi, Buraki's ancient nemesis. Dragon Wars reveals every last detail of Earth's greatest battle – a war you'll only believe when you see it for yourself.
The DVD version of this special effects movie will feature an anamorphic widescreen transfer with 5.1 channel Dolby Digital audio as well as the Featurette "500 Years in the Making." Also included is Dragon Wars Animatics: From Storyboard to Screen and a Photo Gallery.
The Blu-Ray version of the film will offer up a 1080p transfer and the same extras as the DVD version.
"Dragon Wars" will be in stores on January 8 for $38.95 on Blu-Ray and $28.95 on DVD. A UMD Version will also be released for $24.94.