Danny Boyle's Sunshine blazes home to DVD and Blu-ray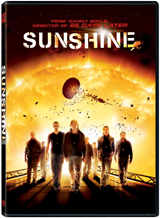 20th Century Fox Home Entertainment will drop Danny Boyle's disturbing sci-fi world saver Sunshine on DVD and Blu-Ray Disc after the first of the year.
It is 2057 and the sun is dying. Mankind is on the edge of extinction but has one last hope – a group of men and women determined to reignite the dying star. But when the crew discovers a distress beacon from a long lost ship along the way, their trip becomes more dangerous than before.
This "thinking person's thriller" is anchored by an all star cast that includes Cillian Murphy (Batman Begins, 28 Days Later), Chris Evans (Fantastic Four), Michelle Yeoh (Crouching Tiger, Hidden Dragon), and Rose Byrne (28 Weeks Later, Troy). "Sunshine" is set to have Deleted Scenes, a Director's Commentary, a series of Web Production Diaries, and two short films.
As mentioned in our Blu-Ray Festival report, the Bu-Ray disc will also offer a picture-in-picture video commentary as an exclusive high definition feature.
"Sunshine" is scheduled for release on DVD and Blu-Ray on January 8 and will cost $29.98 and $39.98 respectively.