Crimson Tide makes for high resolution waters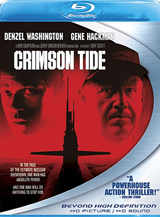 Buena Vista Home Entertainment has just announced a Blu-Ray version of Tony Scott's Cold War thriller Crimson Tide.
Dynamic Denzel Washington joins Hollywood favorite Gene Hackman in this intense action thriller that's a smash hit with audiences and critics alike! In the midst of a global crisis, the USS Alabama receives an unconfirmed order to launch its nuclear missiles-signaling the start of WWIII. The tension quickly rises as the sub's respected commander (Hackman) and his brilliant executive officer (Washington) clash over the validity of their orders battling each other for control of the sub! As this epic struggle rages under the sea, Crimson Tide brings motion picture excitement to a new level-and you to the edge of your seat!
The Blu-Ray Disc will feature the 116 minute theatrical cut of the movie in 1080p 2.35:1 widescreen, complemented by a variety of audio options. Unfortunately Buena Vista Home Entertainment has not yet announced any specific technical specs or bonus materials for this release but we will keep you posted as they come in.
"Crimson Tide" is scheduled for release on February 5 with a $29.99 stickerprice.