Blue Underground won't let sleeping corpses lie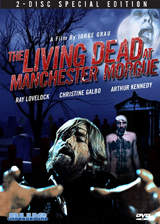 Blue Underground has just unveiled details about the upcoming release of Jorge Grau's zombie shocker The Living Dead At The Manchester Morgue. Many of you may remember this film under its other title, "Let Sleeping Corpses Lie, " that was released by Anchor Bay some time ago, but now the film returns as a 2-disc DVD set, filled with cool extras and a brand new transfer taken directly from the original camera negative.
Two traveling companions, George (Ray Lovelock) and Edna (Christine Galbo), come across a small town infested with the "living dead" that are satisfying their cannibalistic hunger on anyone they come across. Discovering that an agricultural machine using radiation waves is at the root of all the havoc, George and Edna fight for survival and their innocence as they are pursued by a relentless detective (Arthur Kennedy) who is convinced they are responsible for the ghoulish acts of violence plaguing the countryside. All this leads to a gruesome showdown at the Manchester Morgue – an ending that knots a horrifying twist in the lives of all involved!
The release will feature an anamorphic widescreen presentation of the movie and a remixed 5,1 channel Dolby Digital audio track. A stereo track and the original mono track are also included.
As extras you will find a series of new Interviews on the release, such as "Back At The Morgue: Interview with director Jorge Grau," "Zombie Fighter: Interview with star Ray Lovelock," and "Zombie Maker: Interview with makeup artist Giannetto De Rossi." But you will also get to see a 2000 Interview with Jorge Grau on the disc. Further a Poster Gallery and the movie's International and US Trailers will be included, alongside the film's TV and Radio Spots.
"The Living Dead At The Manchester Morgue" will rise again on February 26 for $29.96.