Blonde And Blonder arrives in February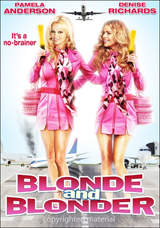 Here is a cute one for you. Put two acting-challenged bimbos in a movie and call it a comedy. That's what happened to Blone And Blonder, a film that hits DVD in February, courtesy of First Look Home Entertainment.
Comic mayhem ensues when two stunning blondes – Dee Twiddle (Pamela Anderson) and Dawn St. Dom (Denise Richards) – accidentally stumble upon a murdered FBI informant. Things really take a twist when the mob Godfather mistakes them for the real killers-for-hire and makes them an offer they can't refuse. Through a series of hilarious close-calls and "Blonde Moments" Dee and Dawn find themselves in way over their heads as they go on a wild road adventure, while simultaneously having to dodge federal agents and real mobster hit men.
The DVD will feature a 1.85:1 widescreen anamorphic transfer with a 5.1 Dolby Digital audio track when it hits retail stores on February 5 for $28.98.