An Affair To Remember celebrates its 50th Anniversary in style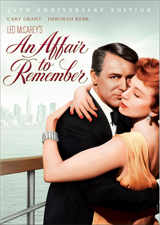 20th Century Fox Home Entertainment is celebrating the 50th Anniversary of An Affair To Remember and brings the film back to DVD as a 2-disc Special Edition.
In this poignant and humorous love story, Cary Grant and Deborah Kerr meet on an ocean liner and fall deeply in love. Though each is engaged to someone else, they agree to meet six months later at the Empire State Building if they still feel the same way about each other. But a tragic accident prevents their rendezvous and the lovers' future taken an emotional and uncertain turn.
The release will sport a new transfer of the movie and come with a host of bonus materials, such as a Commentary Track by singer Marni Nixon and film historian Joseph McBride. Also included are a series of Featurettes such as Affairs to Remember: Deborah Kerr, Affairs to Remember: Cary Grant, A Producer to Remember: Jerry Wald and Directed by Leo McCarey. Further The Look of An Affair To Remember is included alongside with Backstory: An Affair To Remember and the Fox Movietonews: An Affair to Remember Shipboard Premiere Attracts Celebrities.
The release will be rounded out by a series of Trailers and a Poster Gallery and a Still Gallery.
"An Affair To Remember" returns to DVD on January 15 for $19.99