A Second Helping of Big Love from HBO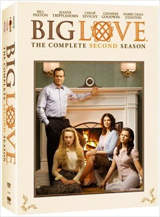 HBO Home Video has detailed the release of Big Love: The Complete Second Season on DVD this holiday season.
"Big Love" is a surprise hit that latched onto "The Sopranos" fan base two years ago. Hailed by the Wall Street Journal as "sharp, seriously compelling drama" and "adventurously outrageous" by the Washington Post, "Big Love" follows the trials and tribulations of a polygamist Mormon family in Utah. Bill Paxton plays Bill Henrickson, the owner of a successful chain of hardware stores who's secretly married to three women. Jeanne Tripplehorn, Chloe Sevigny, and Ginnifer Goodwin play the three bickering sister-wives in as the show explores the problematic lifestyle of their family.
The 4-disc DVD set is scheduled to include all of the second season episodes as well as Three Exclusive Bonus Vignettes that reveal things that occurred before the events of season one. "Big Love: The Complete Second Season" will drop on December 11 for $59.99 (an MSRP that's much lower than previous prices for seasons of an HBO series!)