A Death Sentence is declared for Kevin Bacon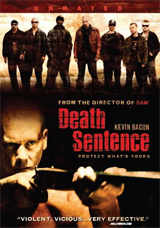 20th Century Fox Home Entertainment will release the revenge thriller Death Sentence on DVD this January.
The film tells the story of Nick Hume (Kevin Bacon), a man who embarks on a startling quest for vengeance after his oldest son is killed by a gang initiation ritual. Hume's perfect life shatters and he spirals downward after a series of confrontations with his son's killers. He becomes a man he doesn't recognize, bent by bitterness and rage into a cold monster that threatens to consume him. The all star cast also includes Kelly Preston, Aisha Tyler, Garrett Hedlund, and John Goodman. The film is helmed by "Saw" director James Wan and is based on a novel by James Garfield.
The DVD is set to include the Rated and Unrated Versions of the film (with ten additional minutes of footage), two Featurettes called Making a Scene and Life After Film School with Kevin Bacon, and a series of Webisodes. It's scheduled for release on January 8 for $29.98.