With a Title like Hatchet you can't go wrong!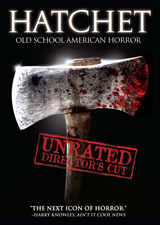 Anchor Bay Entertainment is bringing indie director Adam Green's independent horror smash hit Hatchet to DVD in time for Christmas.
"Pit of Horror" called the flick "the best slasher film in twenty years" and it introduces audiences to a new boogeyman of the genre, Victor Crowley. The premise is simple – accidentally killed when he was a boy, a murderous Victor returns to haunt a group of tourists visiting the swamps of New Orleans.
The DVD will be available in Theatrical and Unrated Versions and will include over 90 minutes of bonus features. You can expect an Audio Commentary with the director, cinematographer, and lead cast members and a series of featurettes that include: a look at The Making of Hatchet, an examination of the villain in Meeting Victor Crowley, a behind-the-scenes glimpse at makeup and prosthetic effects with Guts & Gore, an exploration of character death scenes in Anatomy of a Kill, and a look at the director's friendship with "Twisted Sister" and Fangoria Radio host Dee Snyder. Rounding out the release is a Gag Reel and the film's trailer.
Look for the DVD on December 18 and expect both the Rated and Unrated versions to set you back $26.97.