Ultimate Force is coming to high def!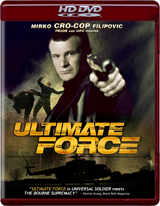 BCI has just unveiled details about the upcoming release of Ultimate Force on HD-DVD and Blu-Ray Disc, and we can tell you all about it.
In Ultimate Force, Mixed Martial Arts superstar Mirco Filipovic stars as Axon Rey, a heavily decorated war hero and former tactical police officer who has been recruited by a covert government organization to fight enemies of the State. Schooled in martial arts and the latest high-tech weapons, Rey, now code named Sphinx, is an elite member of the Sanction Division of SATO (State Anti-Terrorist Organization), a clandestine collective of assassins under the direct control of SIN (State Intelligence Network).
Sphinx failed his last assassination mission. Normally, the state dealt with such a failure easily—it executed the executioner. Since Sphinx is their top assassin, his controller, Janus (Igor Galo), declines to eliminate him, sending him instead to a rehabilitation island called Gulag 7. Sphinx must now face 5 opponents: other government operatives who have been sent to the island for various reasons. Refusal to fight means death. Now, he must fight his way off the island. It's kill or be killed….
The HD-DVD and Blu-Ray versions will feature identical technical specs and bonus materials. Both releases will be single-layer discs and present the movie in 1080i anamorphic widescreen with Dolby Digital audio. As extras you will find a Making-Of Featurette on the disc, as well as an Interview with Mirko "Cro Cop" Filipovic on the disc as well as the movie's Trailer. As an exclusive extra, the high definition versions will also contain an extra feature – Footage of Mirko training.
"Ultimate Force" is scheduled for release on November 13 and will carry a friendly $19.98 sticker price for the HD-DVD version and $24.98 for the Blu-Ray version.