Starz documents Midnight Movies: From The Margin To The Mainstream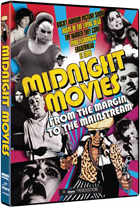 Starz Home Entertainment readies Midnight Movies: From The Margin To The Mainstream for release in November.
Based on the book by noted film scholar and documentary filmmaker Stuart Samuels, the documentary focuses on the six low-budget films released between 1970 and 1977 that not only defined the midnight movie phenomenon, but ultimately transformed the way we watch and make movies: Jodorowsky's "El Topo," George Romero's landmark horror film "Night of the Living Dead," John Waters' ode to bad taste Pink Flamingos, Perry Henzell's outlaw reggae classic "The Harder They Come," David Lynch's disturbing "Eraserhead" and, perhaps the film that truly defined the genre and redefined audience participation, "The Rocky Horror Picture Show."
Featuring startling clips (including the infamous ending shot of "Pink Flamingos"), rare archival footage and revealing reminiscences with the films' directors, distributors, exhibitors and supporters, including John Waters, David Lynch, Roger Ebert, George Romero, Richard O'Brien, Alejandro Jodorowsky, Perry Henzell, and many more, "Midnight Movies: From the Margin to the Mainstream" details the surprising stories behind the movies that defied mainstream America – by reinventing cinematic sensibilities. In this cinematic netherworld, nothing is sacred – and everything is shocking!
The DVD will be available on November 13 for only $19.97.