Silent Night, Deadly Night returns to DVD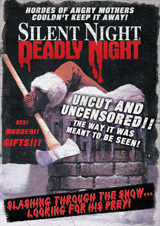 Anchor Bay Entertainment has just sent over details about the upcoming DVD release of the controversial 1984 indie-horror thriller, Silent Night, Deadly Night.
Years ago, little Billy saw his parents murdered by an escaped killer wearing a Santa Claus costume. The experience left indelible scars on his psyche, made all the worse by his subsequent years languishing in an orphanage, where his life was made a living hell by the cruel and domineering Mother Superior (Lilyan Chauvin, Universal Soldier).
With the help of the sympathetic Sister Margaret (Gilmer McCormick), the 18-year-old Billy (Robert Brian Wilson) secures a job at a toy store. But when the store's regular Santa is injured, Billy is called upon to don the red suit. But as he does, he becomes a ticking time bomb. The traumatic memories of his parents' murders, combined with the abuse he has suffered at the hands of the Mother Superior, propel him into a state of psychotic rage. Santa Claus is coming to town, and he's got murder on his mind…
Igniting a firestorm of controversy upon its original 1984 release, this DVD version will feature an anamorphic widescreen transfer o the movie and also contain an Interview with director Charles E. Sellier Jr. as well as the movie's Trailer and TV Spot.
Decked out with all-new holiday-themed cover art, "Silent night, Deadly night" will make it back to DVD on December 11 for $14.98.