Scorsese releases a documentary about horror legend Val Lewton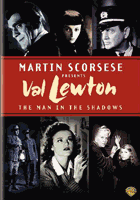 Warner Home Video and Martin Scorsese have teamed up to release Val Lewton: Man in the Shadows on DVD this January.
Scorsese produced and narrates this exploration of Val Lewton, the legendary film producer who reinvigorated the horror genre in the '40s. He helped create classics like "I Walked with a Zombie", "Cat People", and "The Body Snatcher" to name a few.
The documentary will be available on January 15 for $19.97. It will also appear in a new version of The Val Lewton Horror Collection