Paramount recalls the Jack Ryan Collection!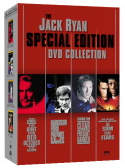 Paramount Home Entertainment's switch to HD-DVD exclusivity has hit an unfortunate snag. As many of you are aware, the upcoming Jack Ryan Collection (which includes HD versions of "The Hunt for Red October," "Patriot Games," "Clear and Present Danger," and "The Sum of All Fears") was distributed to retailers and reviewers with a huge packaging blunder. All of the special features listed on the box and individual cases were not included on the discs themselves. Thankfully, Paramount has issued a recall.
From their press notice: "Please be advised that there are typographical errors on the packaging for the Jack Ryan Special Collector's Edition HD-DVD. The packaging inadvertently notes special features that are not on the HD-DVD. As a result, this product is being recalled and street date is being delayed. We ask that you do not sell or rent this product to consumers and that you stop shipments to additional destinations.
Their press release goes on to say "we will provide further information on the availability of new product shortly." Unfortunately, they've made no announcement about whether they'll be adding the features or simply correcting the box art. A quick release date would suggest they simply changed the covers — a longer delay would hopefully mean fans would get the full package as they were initially promised. We'll keep you posted!