Pan's Labyrinth will invite you in high definition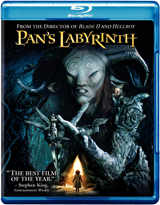 New Line Home Entertainment has announced details about the upcoming release of Guillermo Del Toro's magical drama Pan's Labyrinth on HD-DVD and Blu-Ray Disc this December.
Following a bloody civil war, young Ofelia enters a world of unimaginable cruelty when she moves in with her new stepfather, a tyrannical military officer. Armed with only her imagination, Ofelia discovers a mysterious labyrinth and meets a faun who sets her on a path to saving herself and her ailing mother. But soon, the lines between fantasy and reality begin to blur, and before Ofelia can turn back, she finds herself at the center of a ferocious battle between good and evil.
On Blu-Ray, the film be presented in 1080p on this release with a 7.1 channel DTS-HD Master Audio track in its original Spanish language, while the HD-DVD version will feature a 6.1 DTS ES audio track.
The extras will be the same on both releases and will contain an Enhanced Visual Commentary exclusive to the high definition formats. Also included is a Video Prologue by Guillermo Del Toro and a Commentary Track by the director.
Further, the release will offer up a series of standard definition supplements, all of them culled from the DVD version, such as the Featurettes "The Power Of Myth" and "Pan and The Fairies (El Fauno y Las Hadas)" as well as the Charlie Rose Interview, the DVD Comics, Director's Notebook, VFX Plate Compare, Still Galleries, Marketing Campaigns and Multi-Angle Storyboard comparisons..
"Pan's Labyrinth" will enchant you in high definition on December 26 and can be yours for $35.99 on either format.