Once arrives in time for Christmas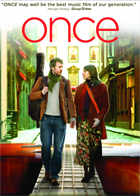 20th Century Fox Home Entertainment has unveiled plans to release the romantic Once on DVD this Holiday Season.
Sometimes, you only get one chance to follow your dreams. So, when a brokenhearted street musician clicks with a beautiful and feisty keyboardist, the unlikely couple decides they have nothing – and everything – to lose. Over the course of one electric week, the duo writes, performs and records an incredible cycle of songs every bit as spontaneous and soulful as their improbable romance. This truly unforgettable blend of transcendent pop music and raw, naturalistic storytelling is absolutely mesmerizing, because something this passionate and original comes along only…Once.
The DVD will contain a Musical Commentary with Director John Carney and Actor/Musician Glen Hansard and Markéta Irglová as well as a Film Commentary featuring the same participants. The featurette Making a Modern Day Musical is also included as well a featurette called More Guy, More Girl. A selection Webisodes are also included as well as a Free Music Download of "Falling Slowly." A selection Trailers rounds out the release.
"Once" will be in stores on December 19 for $29.98.