Never fear Underdog is here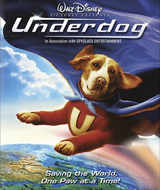 Underdog is coming to DVD and to Blu-Ray, well the live action version anyway. Walt Disney Home Entertainment has the discs ready to fly.
The modern day live action remake of the classic cartoon series features Shoeshine, a basset hound who receives serious superpowers as a result of a lab accident. It is a secret that the dog eventually shares with the young boy who becomes his owner and friend, and together they try to save the day.
Details are still up in the air (no pun intended) for the DVD, but the Blu-Ray version will come with a 1080p transfer, Deleted Scenes (including some not found on the DVD), Bloopers, the Featurette Sit, Stay, Act: Diary of a Dog Actor, two original Underdog Cartoons and a Music Video.
Both versions arrive on December 18 with a $29.98 price for the DVD version and a $34.99 tag for the Blu-Ray Disc.