National Treasure returns to DVD as a Collector's Edition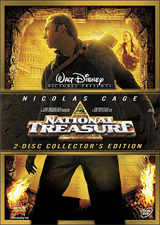 Buena Vista Home Entertainment has just unveiled the details about an upcoming National Treasure 2-Disc Collector's Edition, scheduled for a December release.
Ever since he was a boy, Benjamin Franklin Gates (Nicolas Cage) has been obsessed with finding the legendary Knights Templar Treasure, the greatest fortune known to man. As he tries to decipher the ancient riddles that will lead him to it, he's dogged by a ruthless enemy (Sean Bean) who wants the riches for himself. Now Gates must steal one of America's most sacred and well-guarded documents, the Declaration of Independence, or let it – and a key clue to the mystery—fall into the wrong hands. Heart-pounding chases and close calls turn Gates' quest into a high-stakes crime caper and the most exciting treasure hunt ever experienced.
Loaded with new bonus materials, the DVD will also contain an anamorphic widescreen transfer of the movie with a 5.1 Dolby Digital audio track. As extras you will find a Multilevel Treasure Hunt on the disc. In theme with the movie itself, this is a series of hidden features through which you can unlock a slew of even more additional supplements. Also included are Deleted Scenes and an Alternate Ending as well as the Opening Scene Animatic, all with optional commentary by the director. Further you will find the Featurettes "National Treasure on Location," "The Knights Templar," "Treasure Hunters Revealed" and "Riley's Decode This!" on the first disc of the set, as well as Three Puzzling Challenges.
On the second disc of the set look for all-new bonus features such as a "National Treasure: Book of Secrets" Sneak Peek and Additional Deleted Scenes with introductions by director Jon Turteltaub. A treasure trove of Featurettes will be hosted on this disc also, including "Ciphers, Codes and Codebreakers," "On the Set of American History," "To Steal a National Treasure" and "Exploding Charlotte".
The "National Treasure: Collector's Edition" will come to a store near you on December 18 in a new collectible packaging for $29.99.