Martin is back thanks to HBO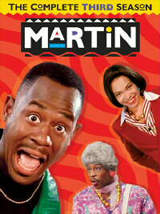 The third season of Martin Lawrence's self monikered Martin is coming to DVD from HBO Home Entertainment this fall.
Martin's in the house — and in the WZUP studio — driving girlfriend Gina nuts and entertaining buddies Tommy and Cole with his outrageous antics. All your favorite players including Sheneneh, Jerome and Mama Payne are back in action and hysterical as ever. If you don't already know wazzup with Martin… then you so crazy!
Coming as a 4-disc DVD set in the show's original fullframe aspect ratio and with Dolby Stereo sound, sadly, no extras will be included in the set at all. "Martin: The Complete Third Season" is scheduled to arrive on November 6th for $29.98.