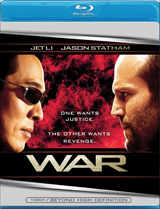 Lionsgate just announced details about the upcoming release of their action flick War starring Jet Li and Jason Statham in January.
After his partner is brutally murdered by the infamous assassin Rogue (Jet Li), FBI agent Jack Crawford (Jason Statham) vows to find the elusive killer and personally avenge his partner's death. But Crawford's thirst for vengeance jeopardizes his professional judgment, and as the violence escalates he finds himself in the middle of a conflict between two rival Asian gangs. Now nothing is quite what it seems and he must be prepared for War!
The DVD version of the film will feature an anamorphic widescreen presentation with an English Dolby Digital 5.1 audio track as well as a Dolby surround track.
The Blu-Ray version that will also be released on the same date will feature a 1080p widescreen transfer that is complemented by a lossless 7.1 channel PCM audio track!
No extras have been announced yet for either version but they will be in stores on January 1 with a $29.99 price tag for the DVD and a $39.99 price tag for the Blu-Ray Disc version.