Karas the Revelation finally arrives on DVD…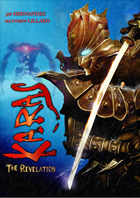 Starz Media and Manga Entertainment are releasing the sequel to "Karas: The Prophecy" – Karas: The Revelation – on DVD this November.
Karas is a 2D/3D hybrid anime series that features voicework from Jay Hernandez ("Hostel"), Matthew Lillard ("Scream"), and Cree Summer ("Drawn Together"). The story follows a battle between good and evil storming through the busy streets of an futuristic Neo-Tokyo. Demons have declared war against humanity and a force known as Karas must rise to combat the coming tide.
The release offers up an anamorphic widescreen version of the movie with a 6.1 DTS ES audio track among others. As extras the release will feature a Still Gallery, footage from the recording sessions called In The Voiceover Booth, a Rough Cut Excerpt and the film's Trailer.
This 2-disc DVD release comes packaged in a foil embossed slipcase and will be available on November 20 for $29.97.