Image Entertainment lines up some music in high def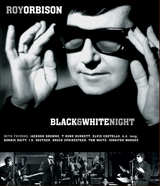 Image Entertainment is entering the high definition field, taking sides with the HD-DVD camp by releasing a number of music titles to the format in December.
First up is Roy Orbison: Black & White Night, a special one-time event documenting one of rock and roll's greatest and most unique performances. Recorded live at the Cocoanut Grove in Los Angeles, Roy Orbison is joined by an eclectic ensemble of rock and roll superstars. Highlighting this all-star line-up are Jackson Browne, Elvis Costello, T-Bone Burnett, J.D. Souther, Jennifer Warnes, k.d. lang, Bonnie Raitt, Bruce Springsteen and Tom Waits. Orbison and fellow performers spend a scintillating hour performing many of his greatest hits.
Then there will be The Moody Blues: Lovely To See You – Live in which the legendary band present this special musical collection, their first live album without an orchestra, since their historic 1969 release The Moody Blues Live + 5. Recorded live at the Greek Theatre in Los Angeles on June 11 during their 2005 World tour, in which they played New Zealand for the first time and returned to Australia, this rare live recording is pure Moody Blues. With the Moodies' unique brand of music that has kept them at the top of their profession for 40 years, and has maintained them as one of the biggest live touring acts of all-time, this is a truly sparkling performance from one of the world's greatest and best-loved rock bands.
Featuring Justin Hayward on electric, acoustic guitar and vocals; John Lodge on bass, acoustic guitar and vocals; and Graeme Edge on drums and percussion, the rock legends magically perform selections from their incredible roster of musical masterpieces including "Nights In White Satin," "I'm Just A Singer (In A Rock & Roll Band)" and "Your Wildest Dreams," along with such rarely performed live gems as "Higher and Higher," "The Actor" and "Are You Sitting Comfortably?" The Moodies are also joined by their friends and colleagues Norda Mullen on flute and guitar, Gordon Marshall on drums and percussion, Paul Bliss on keyboards, and Bernie Barlow on backing vocals and keyboards, making it a magical night to remember.
And then there is also the release of a more contemporary artist with R. Kelly Live!: The Light It Up Tour.
All three releases will feature widescreen presentations and will be supplemented by 5.1 channel DTS-HD audio tracks. The releases will be available on December 18 and can be yours for $24.99, each.