Here is the cover for the Braveheart Collector's Edition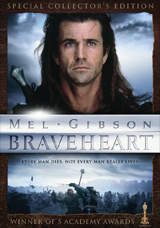 As we reported here a little while ago, Paramount Home Entertainment
Is releasing a new Collector's Edition of Mel Gibson's epic, Braveheart.
Filled with a whole lot of new extras and supplements, this is the version of the movie fans have been waiting for for years, no doubt.
We now have been able to obtain the cover artwork for the release and wanted to make sure you get a chance to take a look at it as well, especially since we feel it has been very well put together.