Enjoy The Dark Crystal in high definition also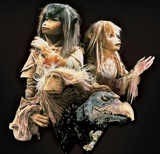 Recently, Sony Pictures Home Entertainment released a new 2-disc Special Edition of Jim Henson's landmark fantasy movie The Dark Crystal. Now we have gotten word that the studio will also release this 25th Anniversary Edition of the movie on Blu-Ray Disc next year.
Enjoy incredible footage from the Henson archives in this 2-disc 25th Anniversary Edition of "The Dark Crystal." Travel back in time to the faraway planet of Thra. Cheer on the Mystics as they fight to overthrow the evil Skeksis and take back control of their planet! When Jen, a member of the Gelfling tribe, sets out to find the crystal¿s missing shard, his dangerous journey brings him face to face with monsters at every turn. Determined to restore peace to their planet, Jen will not back down! From the brilliant imagination of Jim Henson, this masterpiece of animation recounts the timeless tale of good vs. evil and has become a cult favorite of children and grown-ups alike!
The 2-disc edition of the movie will feature a 1080p high definition transfer of the movie with uncompressed audio tracks. The extras from the DVD set will be carried over to this release, so look for the Commentary Track by Brian Froud and the Original Making of Documentary "The World Of The Dark Crystal" and a selection of Deleted Scenes on this release, as well as Work Print Scenes, Character Drawings and the 2-Part Documentary "Reflections of the Dark Crystal: Light On The Path Of Creation & Shard Of Illusion", that includes rediscovered footage from the Henson Archives and newly-recorded interviews with the people who created "The Dark Crystal."
"The Dark Crystal" will head to Blu-Ray Disc on July 7, 2008. We are not sure why it will take so long, but maybe Sony will surprise us all with the inclusion with even cooler features somewhere down the road. Either way we have no doubt that it will be a fascinating experience.