Cat People will tear at you in December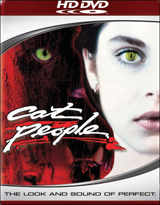 Universal Home Entertainment has just announced a new release date for the previously postponed HD-DVD version of the 1982 remake of Cat People for release in December.
Nastassia Kinski stars as Irena, a beautiful young woman on the bridge of sexuality; she discovers love for the first time only to find that the explosive experience brings with it tragic consequences. The tremendous passion of this girl's first romantic love is so strong, however, it bypasses the chaos around her- including her brother's (Malcolm McDowell) extraordinary demands – as it pushes her on to her own bizarre destiny. With a style as timeless as myth, Cat People is an erotic fantasy of the passion and terror that surround this girl's first love. Desire… passion… blood, her lust transforms her into one of the Cat People.
The release features a 1080p widescreen transfer and supplements it with a 5.1 Dolby Digital TrueHD audio track in English, as well as a 5.1 Dolby Digital Plus track. The HD-DVD version will include most of the extras from the 2002 DVD release, such as director Paul Schrader's Commentary Track, the Featurette "An Intimate Portrait" and Tom Burman's Special Make-Up Effects Featurette among other.
"Cat People" is scheduled for release on December 25 with a $29.98 price tag.