Casshern comes home in October!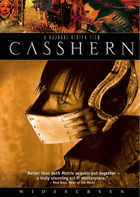 Paramount Home Entertainment has announced it is releasing a Director's Cut DVD of the sci/fi cult classic Casshern in mid October. This is the first time the title will appear domestically on DVD!
Based on a 1973 anime of the same name, "Casshern" is a live action film set in a world devastated by a great war that has left society in ruins. The story follows a futuristic warrior battling a horde of mutant neo-humans trying to annihilate the human race in their time of peril. Imbued with superhuman strength, Cassern has to destroy this blight before it destroys everything he loves.
The Director's Cut DVD will feature an anamorphic widescreen transfer of the movie with its original Japanese 5.1 channel Dolby Digital audio track and English subtitles. No extras will be included in the release. It is scheduled for release on October 16 and will cost $26.99.