Bratz, the movie, is bullying its way onto DVD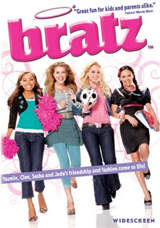 Lionsgate has announced that the life action version of the teenage flick Bratz will make its DVD debut this November.
As long as they can remember, Yasmin (Nathalia Ramos), Jade (Janel Parrish), Sasha (Logan Browning) and Cloe (Skyler Shaye) have been "BFF" – Best Friends Forever. Inseparable since they first met, the young girls have always supported each other's individual personalities, talents and fabulous fashion styles. But now as the foursome enter Carry Nation High, Yasmin, Jade, Sasha and Cloe face a brand new world: a blackboard jungle, where for the first time they discover life as a teenager means dealing with a system of social cliques, all strictly enforced by senior Meredith Baxter Dimly. Finding themselves being pulled further and further apart, the girls band together and rise up as "the Bratz" to fight peer pressure, in turn learning how true empowerment means standing up for your friends, being true to oneself and living out one's dreams & aspirations.
Sold separately as fullscreen and widescreen versions, the release will feature 5.1 channel Dolby Digital audio tracks in English and Spanish.
As extras the disc will also contain Six Deleted Scenes and a series of Bloopers and Outtakes. Not to be missed for a release targeted at teenage girls, the release will also come with two Music Videos and even a Making Of Featurette for these music videos. Eleven Featurettes covering all aspects of the movie will also be part of the disc, providing something for everyone.
"Bratz" will be in stores on November 27 with a mall-friendly $28.98 sticker price.