Balls Of Fury are headed your way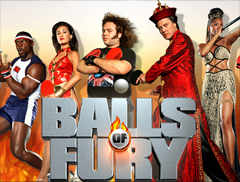 Universal Home Entertainment has just unveiled plans to release the comedy Balls Of Fury on DVD and HD-DVD this December.
Down-and-out former professional Ping-Pong phenom Randy Daytona (Dan Fogler) is sucked into this maelstrom when FBI Agent Rodriguez (George Lopez) recruits him for a secret mission. Randy is determined to bounce back and recapture his former glory, and to smoke out his father's (Robert Patrick) killer – one of the FBI's Most Wanted, arch-fiend Feng (Academy Award winner Christopher Walken).
The DVD version will feature an anamorphic widescreen transfer of the film, complete with 5.1 Dolby Digital audio tracks in English and French. As extras the DVD will serve up Balls Out: The Making Of Balls Of Fury, a featurette that takes you behind the scenes of the film. Also included is a set of Deleted Scenes and even an Alternate Ending, as well as an additional featurette entitled Under The Balls: The Life Of A Ball Wrangler.
The HD-DVD version on the other hand dishes out a 1080p widescreen transfer with a Dolby 5.1 TrueHD audio track, as well as Dolby Digital 5.1 tracks in English and French. All the extras from the DVD version will also be included on the HD-DVD version – only this time in high definition. The release is a HD-DVD/DVD combo that also includes the DVD version on the disc's flip side.
"Balls Of Fury" is due in stores on December 18 for $29.98 on DVD and $39.98 on HD-DVD.