Arctic Tale will warm your hearts in December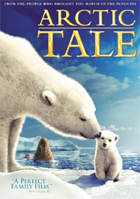 Paramount Home Entertainment has just unveiled plans to release the documentary Arctic Tale on DVD and HD-DVD in December.
Set in the vast snow kingdom at the top of the world, Arctic Tale is a real life adventure from the people who brought you March Of The Penguins. Join narrator Queen Latifah as she follows two very different arctic creatures, Nanu, the polar bear cub and Seela, the walrus pup, through exciting and harrowing struggles for survival. Armed only with their natural instincts and mothers' guidance, these inspiring animals face countless trials and challenges in a beautiful icebound world that is rapidly melting beneath them.
Featuring widescreen presentations and Dolby Digital 5.1 audio tracks on the DVD version and Dolby Digital Plus tracks on the HD-DVD version, both releases will aos come with a "Making Of Arctic Tale" Featurette and the Featurette "Are We There Yet? World Adventure: Polar Bear Spotting". The release will be rounded out by the movie's Theatrical Trailer, which will be presented in high definition on the HD-DVD version.
"Arctic Tale" will warm you hearts on December 4 when it comes to stores for $29.99 on DVD and $39.99 on HD-DVD.