A Room With A View hits high definition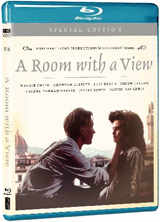 Warner Home Video has just announced to release the Academy Award-winning romances A Room With A View on HD-DVD and Blu-Ray Disc in December.
Nominated for eight Oscars in 1986, including Best Picture, and winner of three (Costumes, Art Direction and Adapted Screenplay), "A Room With A View" is the film that defined Merchant-Ivory as the masters of the romantic period piece. A brilliant adaptation of E.M. Forster's novel, the movie tells the story of the coming of age of Lucy Honeychurch (Helena Bonham-Carter). Longing to burst free from the repression of British upper class manners and mores, she must wrestle with her inner romantic longings to choose between the passionate George (Julian Sands) and the priggish but socially suitable Cecil (Daniel Day-Lewis). Boasting a brilliant supporting cast, "A Room With A View" is one of the most romantic of romantic comedies ever filmed.
The Blu-Ray version will sport a 1080p transfer of the film with a Dolby Digital EX audio track in English and French. As extras the single-layer BD-25 disc will also contain a Commentary Track with producer Ismail Merchant, director James Ivory, actor Simon Callow and cinematographer Tony
Pierce-Roberts. The Featurette "E.M. Forster Remembered" is also included along with a Merchant Ivory Tribute. In addition, the disc will contain Promotional Appearances by Daniel Day Lewis and Simon Callow and the BBC Report on the film's success in the U.S..
The HD-DVD version of the film will also come with a 1080p transfer and a Dolby Digital audio track. The extras on the single-layer HD-15 disc will be identical to those of the Blu-Ray version.
Both versions will be in stores just after Christmas, on December 27 with a $28.99 sticker price.