20th Century Fox brings Prison Break to high def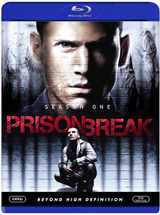 We just got detailed info from 20th Century Fox Home Entertainment about the Blu-Ray release of Prison Break: Season One, scheduled to hit retail stores in November.
Most men would do anything to get out of Fox River Penitentiary, but Michael Scofield will do anything to get in. His brother Lincoln has been sentenced to die for a crime he did not commit, and the only way to save him is from the inside out. Armed with prison blueprints and an impossibly intricate escape plan, Michael gets himself incarcerated, and the race against time is on. Now, he'll need all of the cunning, daring, and luck he can muster…along with the assistance of some of the prison's most vile and dangerous felons.
This Blu-Ray version of the show will feature all 22 episodes form the show's first season in 1080p high definition, spread across six dual-layer BD-50 discs, accompanied by lossless English 5.1 DTS HD audio as well as Dolby Digital Plus tracks in English, French and Spanish. The set also includes the heart-pounding pilot directed by Brett Ratner as well as a whole slew of extras.
On Disc 1 you will find the Pilot with two Commentary Tracks. The first one featuring Paul Scheuring and Dominic Purcell, while the second one offers up Brett Ratner and Mark Helfrich. Also included are two Commentary Tracks on the episode "Cute Poison" featuring Paul Scheuring, Dominic Purcell and Wade Williams on one, and Matt Olmstead and Silas Weir Mitchell on the other. Further look for a Deleted Scene in which "Veronica Watches Surveillance Footage."
Disc 2 comes with two Commentary Tracks for the two-part episode "Riots, Drills and the Devil." The first one features Paul Scheuring, Dominic Purcell, Robert Knepper, Sarah Wayne Callies, Amaury Nolasco and Wade Williams while the second one allows Nick Santora and Bob Mandel to comment on the action of the first part of the episode. The second part offers a commentary by Paul Scheuring, Dominic Purcell, Wade Williams, Amaury Nolasco and Peter Stormare.
On Disc 3 you will find a Deleted Scene in which "Michael Thinks About Sara," while Disc 4 features Commentary Tracks for the episodes "Brother's Keeper." The first on with Paul Scheuring, Amaury Nolasco, Wade Williams, Robert Knepper and Sarah Wayne Callies, the second one featuring Greg Yaitanes and Zach Estrin.
Also included on this disc is a, Alternate Ending for "End of the Tunnel," as well as the Deleted Scene "Sucre and Maricruz in Court."
Disc 5 contains the Deleted Scene "Michael Goes Crazy" and on Disc 6 viewers will find the Featurette "Making of Prison Break". Further a series of other Featurettes are included on this disc, such as "If These Walls Could Speak: Profile of the Joliet Correctional Center," "Beyond the Ink," and "Fox Movie Channel Presents: Making a Scene – Prison Break." Also look for a selection of TV Spots and Promos for the show on this disc.
The "Prison Break: Season 1" will take place on November 13 and you can be a part of it for $99.98